Welcome to the Cumbria Clock Company
A friendly, professional company, who's staff is dedicated to the continuation and development of the traditional skills of turret clock horology.
The Cumbria Clock Company Ltd special in all aspects of work connected with church clocks and public clocks .
We undertake inspection and supply reports and quotations FREE of charge and without obligation.
We will maintain and repair the smallest church or village hall clock upto the magnificent clocks at Salisbury Cathedral, Hampton Court Palace and the Palace of Westminster, better known as Big Ben. 
The CCC are responsible for the maintenance of the country's oldest clock in Salisbury Cathedral, they have undertaken the repairs and automatic winding of the most important astronomical clock at Hampton Court Palace, as well as major restorations at Leeds Town Hall, the large clock at Manchester Town Hall, Manchester, Durham, Hereford and Worcester cathedrals. th
e
In 2007 the Company manufactured and installed a temporary drive unit to the Westminster clock better known as Big Ben. For twelve weeks this unit kept the world's most famous clock showing the correct time, until the restoration of the mechanical clock had been completed.
Past projects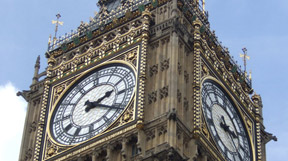 The Cumbria Clock Company designed a new drive unit for the dials of the Great Clock and finished with traditional hand engraving.